FREE SHIPPING on $21 orders and above
What Are Custom Decals?
2016-01-15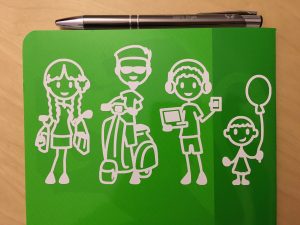 Many people use the words decal and sticker interchangeably, but the difference between the two is quality. A decal is made with a higher standard of quality. They are also more reliable and durable than stickers. These decals can be used in many ways. For instance, custom family car decals are a long-lasting and great way to dress up your car and make it stand out.
With modern design technology, decals can be made easily and at a low cost. The vinyl base of a decal gives it both durability and resistance to environmental factors like dampness and cold. Computer aided design assists in creating an excellent product while still producing items that are affordable to the everyday consumer.
Custom Window Stick Placement
Custom decals can be placed anywhere! When placing them on your car, they can go many places besides just the rear window. Some other placement ideas are on the refrigerator, cabinets, or walls. They can also be placed on headboards or mirrors. They're a great way to personalize work and living spaces simply and affordably. Decals are versatile and removable decorations. Because of this, they can be placed just about anywhere, though you should use a little bit of caution and test some surfaces prior to long-term application, in order to avoid damage.
Designing Your Decal
Choosing a design for your decal is a simple as thinking about the things you love most. Use a company logo, a name, or create your family coat of arms. Add personality and flare by showing dad with a barbeque spatula or the kids playing their favorite sport. You can even produce a decal to represent your favorite vacation location or print the name of your favorite band. Design choices are endless. It's simple and fun to generate a unique and personal design.
Benefits of Custom Decal Design
There are many options for decor, but decals have plenty to offer. Some of the benefits decals offer are:
– Easy to design
– Highly customizable
– Made of seven year durable vinyl
– Affordable
As you can see, decals offer more flexibility and longevity than stickers. Technology allows a simple material to become anything your imagination can conjure up. If you would like to create your own custom decals, explore our site to get started.