FREE SHIPPING on $21 orders and above
How to Use Car Decals as Advertising Tools
2015-11-20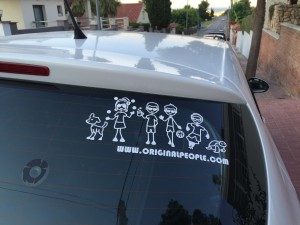 Car stickers are an effective method of street promotion, working to advertise your company during drives around town. Here are a few ways to maximize exposure when using custom window stickers as advertising tools:
Place Stickers Where They're Most Likely to be Seen: The best place to stick decals is the car's back windshield, to pique the interest of drivers behind you. You can also place them on side windows for extra exposure, or try a full-car skin that can be seen from afar.

Create an Eye-Catching Logo: A company logo that looks good on paper might not translate when enlarged as a car decal. Make sure your logo is colorful, appealing, and large enough to draw attention even when speeding down the freeway.

Include Contact Info: A great logo and proper placement can increase awareness of your company, but be sure to provide the info needed to drive a sale, too. Whether that means printing the company's website URL on a window decal, or listing your number below the logo, it's important to make it easy for customers to learn more about your company.

Use a Catchy Slogan: A slogan is a great way to explain your company in so many words. A catchy tagline is instrumental in allowing potential customers to recall your company at the drop of a hat, too.
Let Original People help you create custom car decals for your business. We offer family stickers for cars, plus decals for home and office décor needs. Shop online or get in touch with us by calling (949) 287 8616.