FREE SHIPPING on $21 orders and above
Top Window and Wall Decal Designs for This Season
2016-02-08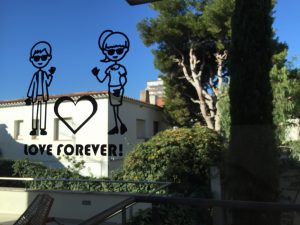 When you want to add your own personal flair to the walls and windows in your home, there are times when you might feel limited with what you can do. For instance, if you are renting your home, your landlord probably does not want you painting the walls. On the other hand, if they do allow you to paint the walls, it is often expected you will paint them back to their original colors before you move out.
However, not everyone is skilled at painting or has the artistic skills required to put their personal touches on the walls in their homes in the form of murals. Fortunately for you, there is a much easier and simpler way to liven up your living spaces by using custom wall decals and window stickers. There are numerous design options to choose from, like these currently trending top window and wall decal designs:
Vinyl Animal Decals – From cats and dogs, to birds and fish, people are getting the pet they always wanted, without the expense of caring and nurturing a real live pet. Animal wall stickers are an ingenious way to liven up plain, boring-looking walls.

Optical Illusion Wall Stickers – These stickers are designed to make it look like certain elements are part of the room, even though they are not really there, like a tropical beach or city view backdrop, or less complex designs, such as lamps, chandeliers, and traffic lights.
Walls You Can Color – This decal is perfect for homes with children or people who have an artistic urge to color, yet lack the ability to draw their own objects. Designs range from basic coloring pages to entire walls full of pictures ready to be colored.
Video Game Themed Decals – Want to bring your favorite video games to life in your home? You can do what others are doing, by ordering custom designed video game themed designs and sticking them to their walls.

Life-Sized Wall Stickers – Need motivation to stay on track with health and fitness goals? Do you have a favorite artist, actor, or other person who inspires you? Then turn a picture of them into a life-sized wall sticker.

Decals Made from Personal Photographs – You can transform your personal pictures into vinyl wall decals in just about any size, as well as ones that cover the entire wall.

Interactive Wall Stickers – Have problems remembering birthdays, appointments, and other important dates? Transform your yearly planner into a full-sized vinyl wall decal.
As you can see, there is an array of different custom wall decals that are popular with people right now. The best thing about vinyl stickers is that they are easy to remove and replace with new ones as trends shift and change. For more information about creating your own vinyl custom window stickers and wall decals, contact Original People.