FREE SHIPPING on $21 orders and above
Stick figures for Iceland
2016-07-01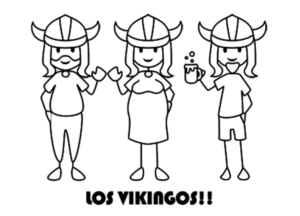 Stick figures to celebrate Iceland's remarkable success in Euro 2016 felt as the right thing to add in our library of figures and symbols! But on top of that we also created a name generator that gives your name in Icelandic. Try it out, it's really fun: go Icelandic
After a crazy, unbeaten run in Euro 2016, Iceland will now take on France in the quarter-finals. So what's the secret of their amazing success?
Icelanders love football. Football clubs and local authorities exploited access to Uefa TV cash and pre-crash riches not by gilding the top flight but by starting at the bottom. From the age of three, any child can access Iceland's army of 600 top coaches, or one for every 825 Icelanders. And they train on a vast network of heated indoor pitches, often plonked next to schools. So after 15 years, the system has produced some really good players.
And the team has a winning, familial spirit. Just look at how the team celebrates with the fans. They are playing for the people because they are the people – they drink in the same bars. There is no millionaire class but a real sense of kinship.
Iceland fans are making as much of a mark as the team. Though Iceland's fans are relatively few, they have made a huge impression here, not least with their superbly choreographed chant during games: supporters go silent for several seconds, then let out a sudden burst of noise in chorus, repeating the same trick to disorientating effect. Portugal fans found it daunting. "The chant thing that Iceland are doing is terrifying – like a Viking horde or something," wrote one Portuguese. 🙂
If you want to read about Iceland, their beautiful nature and interesting history, click here