FREE SHIPPING on $21 orders and above
Show Off Your Family With Original Sticker Decals
2016-01-27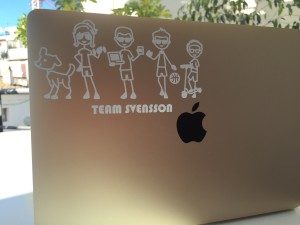 Applying Original Sticker Decals with figures and messages has become quite popular now. Looking around you will find that many objects like e.g. laptops, cars, mail boxes and different gadgets, has a sticker on it. Some of them carry relevant messages while others carry quirky messages that fill you with mirth. The basic concept of putting up stickers is to convey something to on-lookers and passers-by. And to make people smile!
Originalpeople offers a unique mix of stick figures, pets and symbols that you can use to design your personalized sticker decal. For all of you, who are proud of your family, show off your unique family on the family car with our family sticker kit of adults, teens, kids, babies and pets. It's also neat to apply the sticker decals on your mailbox.
Every member of the family is special, which is why you get to pick and choose individual bodies and heads to represent each of the unique member of your family.
Try it out here: start page